Full Spectrum Milk & Honey Sea Salt Scrub | 1500mg | Lavender
Regular price

Sale price

$60.00
Dead skin cells can often block the absorption of CBD, so it's important to scrub them away before applying. While CBD and lavender work together to soothe your discomfort, the fresh goat's milk renews your skin to allow better absorption † 
WARNING: All CBD products contain less than 0.3% THC which can possibly cause a false positive on a drug test.
How to use

Massage in circular motions to wet skin while in shower or bath. Focus on area of discomfort and pain. Rinse Well. Use two to three times a week or as needed.
Ingredients

*Sea Salt / *Raw Local Honey / *Caprae Lac (Fresh Goat Milk), / *Helianthus Annuus Seed (Sunflower) Oil /  Cetylstearyl Alcohol and Polysorbate 60 (Emulsifying Wax), / Phenonip (Preservative) / *Tocopheryl Acetate (Vitamin E Oil) / Full Spectrum CBD Distillate / *Lavender Essential Oil

*Organic Ingredients  
Testing

We take pride in the quality of our products and the care that we put into manufacturing them. Our products are made with only the highest-quality ingredients and are rigorously tested to ensure safety and efficacy. We believe that transparency is key, so we are open about our ingredients, manufacturing process, and third-party test results. We want you to be confident in the quality of our products and feel confident in using them.
Free of coloring, artificial fragrance, parabens or dyes
Fast Relief
Third Party Lab Tested
Made with Fresh Goats Milk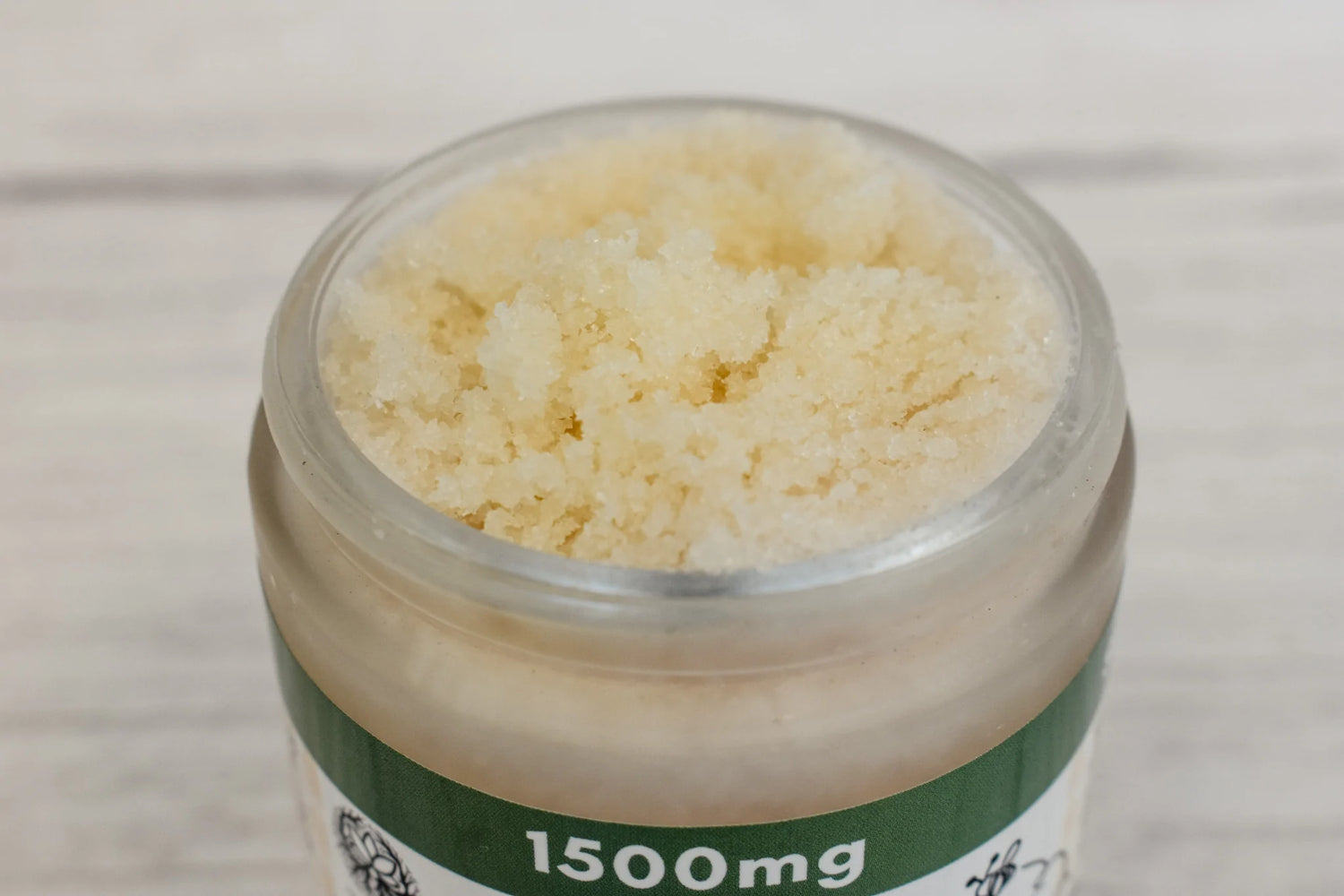 Allow the CBD to penetrate deeper and work more effectively
Relax and restore your body with this CBD Scrub.† The CBD extract is combined with goats milk & honey to provide an ultimate soothing relief.† This CBD Scrub can be applied over the targeted area, such as your back, neck, feet, and hands to ease tension and discomfort.† The combination of ingredients in this scrub work together to provide long-lasting results.† If you are looking for a natural way to relieve tension or discomfort, this CBD scrub is perfect for you!†
†The information provided is for informational purposes only and is not intended as a substitute for the advice provided by your physician or other healthcare professional. You should not use this information for diagnosing or treating a health problem or disease. Please consult your health care professional if you are pregnant or have any concerns and/or questions about the advisability of using any product(s) offered by Alive Market. This information has not been evaluated by the FDA, and is not intended to diagnose, treat, cure, or prevent any disease.