CBD Pre Rolls | CBD Joints
Looking for a quick and easy way to enjoy CBD hemp flower? Look no further than Alive Market Farms CBD prerolls. These CBD joints are a convenient choice for anyone seeking the benefits of premium hemp flower in a ready-to-go format. Each 1 gram preroll contains a precise dosage of high-quality CBD, making it easy to know exactly how much you're consuming. Plus, with a range of strains and flavors to choose from, you're sure to find the perfect preroll for your needs. Whether you're a CBD enthusiast or simply looking to try something new, CBD pre rolls are an excellent choice for anyone looking to incorporate premium hemp flower into your wellness routine.
Regular price

Sale price

$20.00
Was using THC products to help me go to sleep, but they were making my anxiety worse and it was affecting my dreams. Switching to CBD relieved my anxiety and helped with sleep

Allison H.
Grown, harvested and trimmed at our own farm by the owners Josh and Nicole.
Fast Acting
Third Party Lab Tested
No Till & Living Soil Practices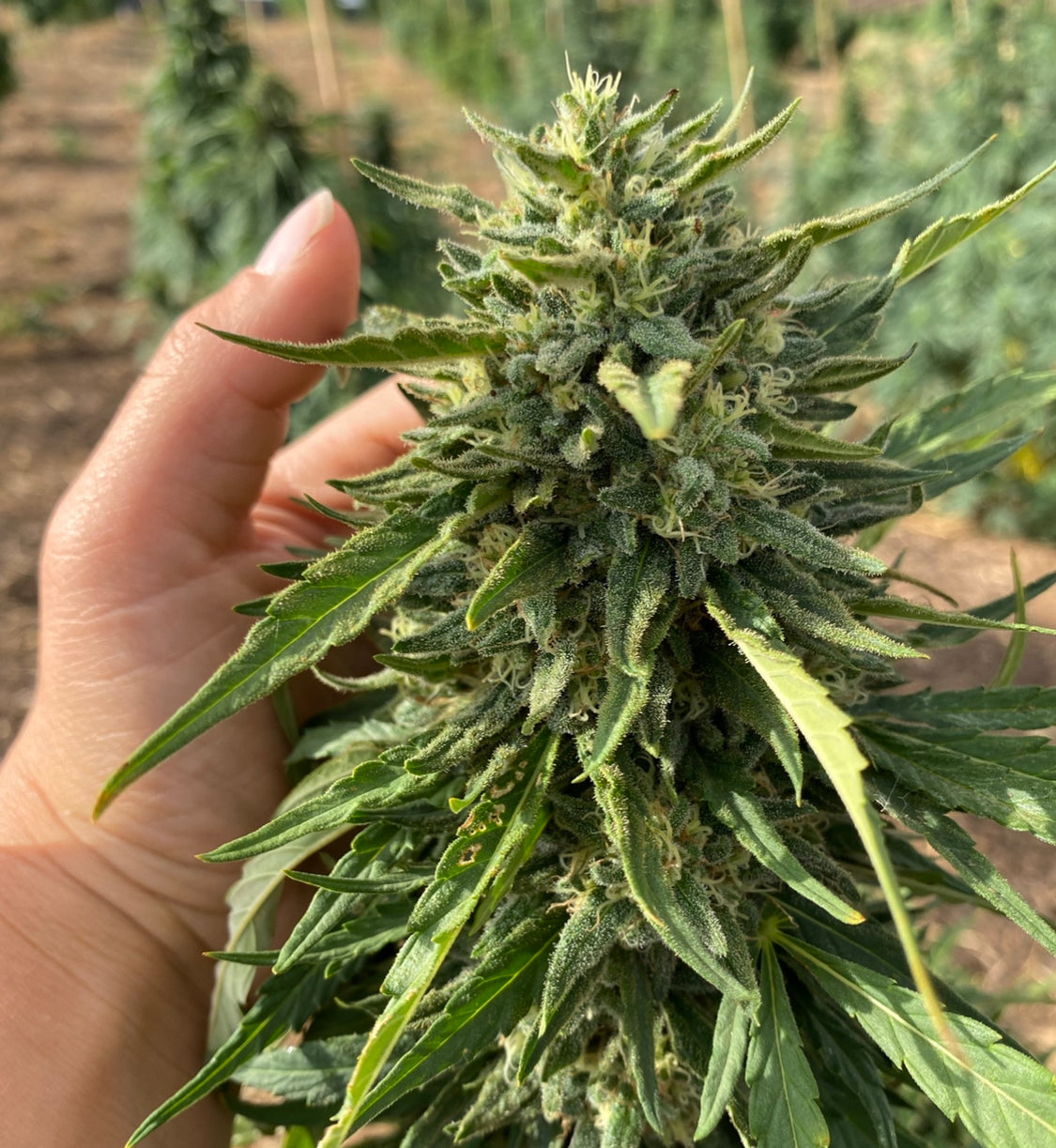 Our Unique Harvest
Before Sunrise
We want you to have the same experience when you open your package, as we do when we freshly cut each plant. We take a slow approach to each harvest to ensure the cannabinoids and terpenes are preserved, which is why we harvest before sunrise.
Dried, Cured and Processed in an indoor environment 
After each plant is cut, we carefully hang the buds in an indoor facility to dry. This step is crucial to prevent the flower from tasting and smelling like "grass". 
Hand trimmed 
After the flower is suitably dry, we carefully hand trim.  Like artwork, each bud is manicured to perfection.
Stored
Once the flower is manicured, it is stored in terpene bags in an airtight container. All finished hemp flower is store in a temperature and humidity controlled indoor facility
What Is CBD Hemp Flower?

CBD hemp flower is an all-natural remedy that has taken the industry by storm.

Derived from the cannabis plant, this unique flower boasts a variety of beneficial attributes that are hard to ignore.

One popular use of CBD hemp flower is in hemp pre-rolls, which have become increasingly popular among those seeking a natural way to unwind and de-stress. With the rise of the wellness industry, more and more people are turning to CBD hemp flower to aid in natural relief from a variety of ailments.

Premium hemp flower is growing in popularity as consumers are paying more attention to product quality and sourcing. As such, CBD hemp flower is fast becoming a staple companion for those seeking a natural and healthy lifestyle.
Can You Buy CBD Pre-rolls Online?

The popularity of pre rolls has grown exponentially over the last few years, thanks to the numerous health benefits they offer, particularly when infused with premium hemp flower.

With the rise in demand, many consumers are wondering if they can buy CBD pre rolls online. The answer is yes! Several reputable online marketplaces like Alive Market offer pre rolls and CBD hemp flower, allowing consumers to explore a wide selection and choose products that suit their preferences.

It is crucial, however, to do a bit of research to ensure you are purchasing from a trusted source and getting quality products.

Whether you are new to CBD or a long-time user, buying pre-rolls online is both convenient and efficient.
Do CBD Pre Rolls Do Anything?

Smoking CBD have become increasingly popular among both new and experienced CBD users. Pre rolls offer a convenient and easy way to enjoy premium hemp flower without the hassle of rolling your own.

However, the question remains: do CBD pre rolls actually do anything? The answer is a resounding yes.

CBD hemp pre rolls are a natural way to consume CBD, which has been shown to have numerous health benefits, such as reducing stress, helping you feel good and promoting relaxation.

Furthermore, premium CBD flower contains high levels of beneficial terpenes and cannabinoids that work together to provide a full-spectrum CBD experience. Whether you are looking to unwind after a long day or manage chronic pain, CBD hemp pre rolls may be the perfect solution.
How Long Do Pre-rolls Take To Kick In?

When it comes to smoking CBD, many users wonder how long pre-rolls take to kick in.

The answer largely depends on the quality of the product and your body's individual response to cannabinoids.

For those looking for a fast-acting experience, you will want to smoke CBD. When sourced from high quality CBD flower, full spectrum pre-rolls offer a comprehensive range of cannabinoids and terpenes that work together to produce a powerful and immediate effect.

However, it's important to note that the duration and intensity of the experience can vary from person to person, so it's always best to start with a small dose and increase gradually as needed.

Overall, the time it takes for pre-rolls to kick in can be influenced by a multitude of factors, but choosing high quality CBD products is always a smart move for achieving the best results.
Do They Make CBD Blunts?

For individuals seeking the medicinal properties of full spectrum CBD products, smoking CBD is an increasingly popular method of consumption.

While traditional blunts are filled with tobacco and high THC cannabis, there are options available for those seeking a healthier smoking experience.

High quality CBD flower can be rolled into a hemp wraps or paper, providing a relaxed and calming effect without the psychoactive high.
Do CBD Pre Rolls Make You High?

CBD pre rolled joints offer users a convenient, pre-rolled option that contains hemp flower infused with cannabidiol, a non-psychoactive component of the cannabis plant. Some people may wonder whether or not these pre rolls will make them high, but the answer is no.

Since CBD doesn't have psychoactive effects like THC, users won't experience a "high" feeling after consuming a hemp CBD pre roll.
What Do CBD Pre Rolls Cost?

Our 3 pack of 1 gram prerolls are $20.
Which Strains Does Alive Market Grow?

We have many strains at our farm available in CBD flower or pre rolls.

We offer:

Super Sour Space Candy

Sour Hawaiian Haze

Sour Suver Haze

Lifter

Sour Elektra
Are Alive Market CBD Joints Similar To Dad Grass?

When it comes to enjoying the benefits of CBD, there are a variety of products on the market to choose from. Two popular options are Alive Market joints and Dad Grass.

While both products are made with high-quality CBD hemp flower, there are some key differences to consider. Alive Market joints are known for their premium hemp flower blend grown at their own farm using living soil practices. They offer precise dosing, ensuring users get consistent results every time.

Dad Grass, on the other hand, prides themselves on their vintage-inspired packaging.

Ultimately, the choice between these two CBD joint products will come down to personal preference, but both offer a quality experience for those looking to incorporate CBD into their daily routine.
Are CBD Pre Rolls Legal?

The answer depends on the state laws where you reside. At the federal level, CBD hemp flower is legal as long as it contains less than 0.3% THC.

However, states have the power to set their own laws, and some have stricter regulations on CBD products, including pre rolls.

It's essential to research your state's laws before purchasing premium hemp flower or any CBD product. By doing so, you can ensure that you are purchasing legal CBD joints and avoid any legal consequences.

As the popularity of hemp joints continues to rise, it's crucial to stay informed on the laws regarding these products.
†The information provided is for informational purposes only and is not intended as a substitute for the advice provided by your physician or other healthcare professional. You should not use this information for diagnosing or treating a health problem or disease. Please consult your health care professional if you are pregnant or have any concerns and/or questions about the advisability of using any product(s) offered by Alive Market. This information has not been evaluated by the FDA, and is not iantended to diagnose, treat, cure, or prevent any disease.