Sour Suver Haze- Organic CBD Flower By Alive Market Farms
Sour Suver Haze will help you find comfort and relax your mind. A hybrid strain that can be used day or night. You will find clarity and focus when you need to get tasks done. However you will also feel relaxed and your worries washed away when it's time to unwind. From its parents Suver Haze and GG#4, Sour Suver Haze is a powerful strain for clarity and relaxing. 
WARNING: All CBD products contain less than 0.3% THC which can possibly cause a false positive on a drug test.
Regular price

$20.00

Sale price

$14.00
Details

Aroma: Clove, Spice and pine

Bud Structure: These hemp flowers are dense and sticky. Vibrant green with orange hairs.

Genetics: (Suver Haze x GG#4 Conversion) - Oregon CBD
Testing

We take pride in the quality of our products and the care that we put into manufacturing them. Our products are made with only the highest-quality ingredients and are rigorously tested to ensure safety and efficacy. We believe that transparency is key, so we are open about our ingredients, manufacturing process, and third-party test results. We want you to be confident in the quality of our products and feel confident in using them.


Cannabinoid Profile: 13% CBD | 0.38% CBG | 0.53% THCA | <0.3% Delta 9 | 

Total Terpenes: 2.36% | Top three in order of dominance (Terpenolene, Myrcene, Guaiol)
Grown, harvested and trimmed at our own farm by the owners Josh and Nicole.
Fast Acting
Third Party Lab Tested
No Till & Living Soil Practices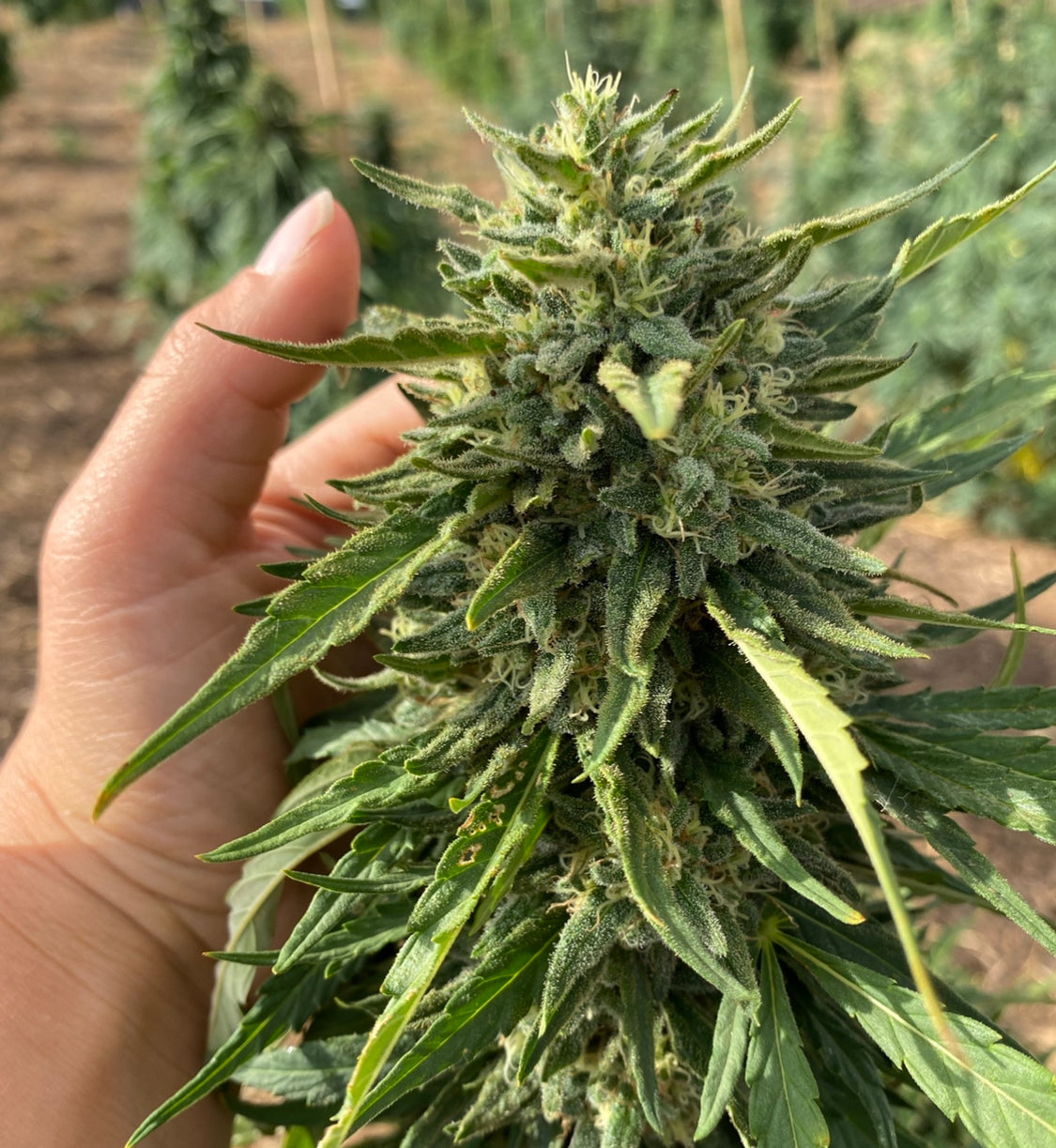 Our Unique Harvest
Before Sunrise
We want you to have the same experience when you open your package, as we do when we freshly cut each plant. We take a slow approach to each harvest to ensure the cannabinoids and terpenes are preserved, which is why we harvest before sunrise.
Dried, Cured and Processed in an indoor environment 
After each plant is cut, we carefully hang the buds in an indoor facility to dry. This step is crucial to prevent the flower from tasting and smelling like "grass". 
Hand trimmed 
After the flower is suitably dry, we carefully hand trim.  Like artwork, each bud is manicured to perfection.
Stored
Once the flower is manicured, it is stored in terpene bags in an airtight container. All finished hemp flower is store in a temperature and humidity controlled indoor facility
†The information provided is for informational purposes only and is not intended as a substitute for the advice provided by your physician or other healthcare professional. You should not use this information for diagnosing or treating a health problem or disease. Please consult your healthcare professional if you are pregnant or have any concerns and/or questions about the advisability of using any product(s) offered by Alive Market. This information has not been evaluated by the FDA, and is not intended to diagnose, treat, cure, or prevent any disease.