Must Be 21+ To Purchase
1:1 CBD+THC Gummies | 10mg THC + 10mg Full Spectrum CBD | 15 Count
Are you looking for the ultimate way to relax and escape life's worries?
Enjoy a euphoric buzz effect from our high potency CBD+THC gummies, which are packed with 10mg of Delta 9 THC and 10mg Full Spectrum CBD. These premium CBD + THC gummies will make you feel the soothing waves of rejuvenation sweep over your mind, body, and soul. You deserve to become the best version of yourself, and Alive Market has the perfect edible to get you there!
Regular price

Sale price

$39.99
WARNING: All CBD products contain less than 0.3% THC which can possibly cause a false positive on a drug test.
Benefits of Delta 9 THC Gummies

Alive Market delta 9 gummies offer a convenient and discreet way to consume delta 9 THC, making it easy to incorporate into your daily routine.

Looking to unwind and relax after a long day? Delta 9 THC gummies may be just what you need. These tasty treats offer a range of benefits, including relaxation, comfort, and an overall sense of well-being.

Whether you're looking to take the edge off after a stressful day or simply want to enjoy a moment of peace and serenity, these gummies can help.

They are also a popular option for those who want to enjoy the effects of THC without the harshness of smoking or vaping.
Why Alive Market THC Gummies?

Alive Market has become a trusted name in the hemp industry, offering a wide array of quality CBD products to help customers feel their best.

Our latest addition, the Delta 9 Gummies made with hemp-derived THC, is a game-changer for those seeking a more potent edibles experience.

These gummies are made with the highest-quality ingredients for a consistent, safe, and delicious experience.

Thanks to the 2018 Farm Bill, hemp-derived THC that is still under 0.3% is now legal across the country, paving the way for experienced hemp brand like Alive Market to bring innovative and reliable THC products to those who seek them.

Trying Alive Market's Delta 9 Gummies is an excellent way to introduce THC to your wellness routine.
Ingredients

Corn Syrup / Beet Sugar / Water / Pectin / 10mg Delta 9 THC (Under 0.3% THC) / Sodium Carbonate / Natural Flavors and Colors
Third Party Testing

We take pride in the quality of our products and the care we put into manufacturing them. Our products are made with only the highest-quality ingredients and are rigorously tested to ensure safety and efficacy.

Transparency is key, so we are open about our ingredients, manufacturing process, and third-party test results. We want you to be confident in the quality of our products and feel confident in using them. We test our products for potency, pesticides, heavy metals, solvents and mold.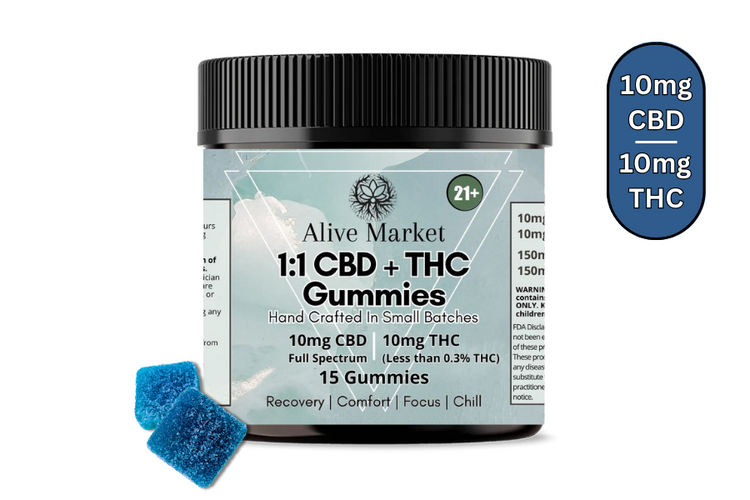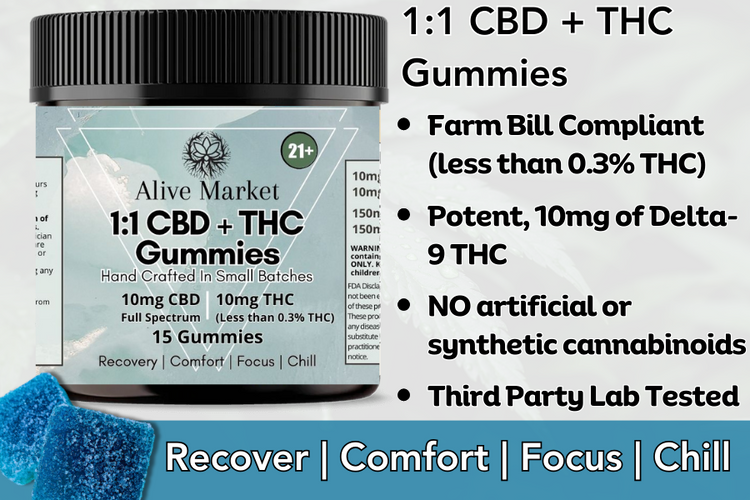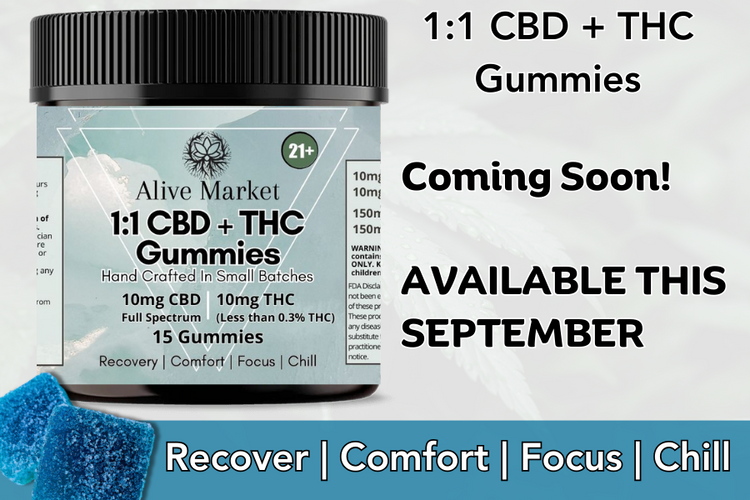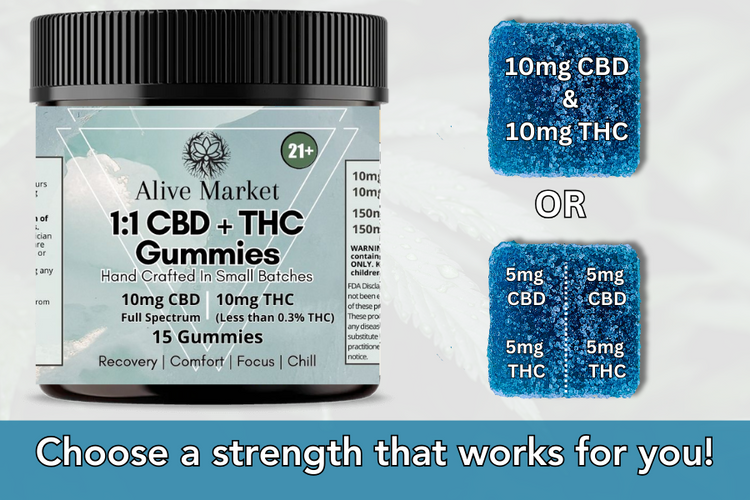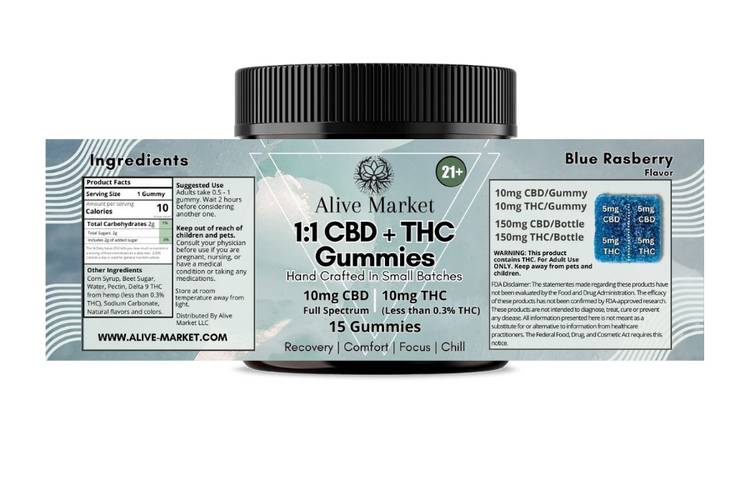 Farm Bill Compliant
Hemp-Derived & ZERO Artificial Cannabinoids
Third Party Lab Tested
Vegan & Gluten-free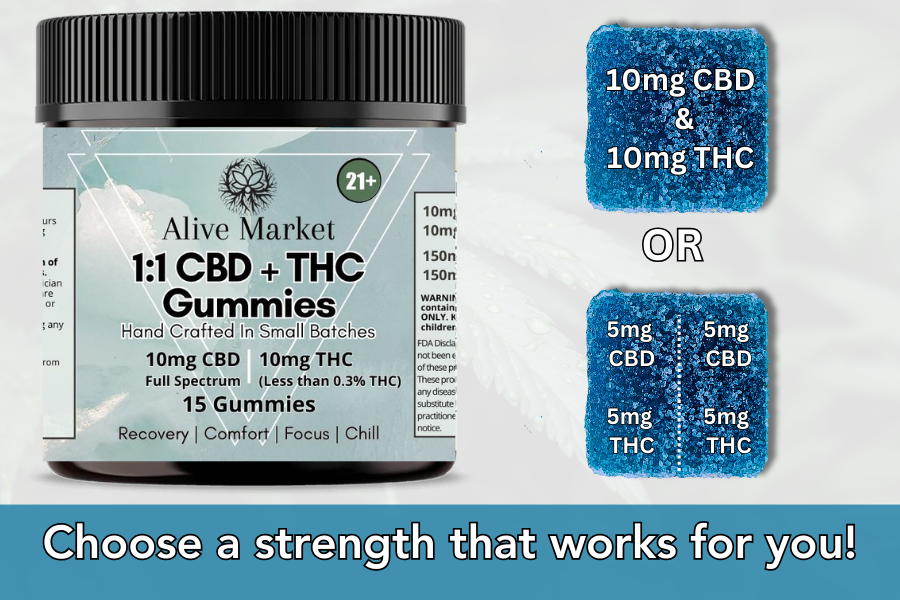 Unlock a New Level of Relaxation with 10mg THC Gummies!
Enjoy a much-needed break from the everyday stresses of life
Take comfort in knowing that our premium gummies are lab tested for quality
Elevate your mind, body, and soul with our powerful yet safe edible option.
Feel a wave of deep relaxation while taking Delta 9 THC gummies.
How are THC gummies legal to buy in the U.S.?
With the passage of the Farm Bill in 2018, it became legal to grow hemp plants in all 50 states in the US.
This means that cannabis plant with less than 0.3% Delta-9 THC on a dry weight basis are now considered legal, including the resinous flowers and the final hemp-derived products.
Our team at Alive Market has been hard at work, perfecting a process that allows for higher THC contents in hemp products.
Each of our gummies contains 10mg of Delta-9 THC, allowing for a safe and enjoyable experience without exceeding the legal 0.3% limit.
Additionally, our products are derived from organic hemp, eliminating any confusion with marijuana and ensuring that our gummies are compliant with the Farm Bill.
Since the hemp and CBD industries can be daunting, we make our customers' safety is our top priority, which is why we conduct third party lab testing to guarantee the quality and potency of our products.
What's the Difference between Hemp-Derived and Marijuana-Derived THC?
When it comes to the difference between hemp and marijuana, it all comes down to THC content.
Both plants are part of the cannabis family, and when hemp is grown for its cannabinoids, it can be easily mistaken for marijuana.
However, hemp is specifically defined as a cannabis that contains less than 0.3% Delta-9 on a dry weight basis.
Despite this slight difference in THC content, the quality and effects of the THC remain the same.
This is important to keep in mind when considering products such as Delta 9 THC gummies, which can be derived from either marijuana or hemp.
How Do Delta 9 Gummies Work?

Like any other THC edible, these tasty treats are metabolized in the digestive system before being absorbed into your bloodstream.

Everyone's reaction to THC is unique, but the effects of edibles typically take longer to set in than other methods of consumption.

However, the duration of their effects can be longer-lasting than other forms of THC like smoking.

With all the benefits of hemp-derived Delta 9 THC and the convenience of a small, portable gummy, you might just have found a winning combination.
Will Delta-9 Gummies Make Me Feel High?

Delta 9 gummies are a popular choice for anyone looking to try out THC edibles.

These delicious treats pack a punch, with each gummy containing 10mg of THC-derived from hemp.

But the question on everyone's mind is, will it make you feel high? The short answer is, yes.

Delta 9 gummies are infused with THC, the psychoactive compound that makes you feel euphoric and relaxed.

However, the intensity of that high depends on several factors. Your tolerance level, body weight, and metabolism all play a role in how you will feel after consuming a Delta 9 gummy.

So, if you're new to THC edibles, we recommend starting with a lower dose and gradually working your way up.

But rest assured, these hemp-derived Delta 9 gummies are a great way to experience the effects of THC in a tasty and discreet form.
Can You Fly With Hemp Derived Delta-9 Gummies?

Are you looking to bring some tasty hemp derived Delta-9 gummies with you on your next flight, but aren't sure if it's allowed?

Well, the good news is that as long as your gummies are made with hemp derived THC products and contain no more than 0.3% THC, they should be perfectly legal to fly with.

However, it's still important to do your research and check the specific regulations for the airline you'll be flying with.

While THC edibles may still be prohibited in certain states or countries, hemp derived products are generally accepted.

So go ahead and pack your delicious and federally legal Delta 9 gummies for a worry-free travel experience.
What Is The Difference Between Delta 9 and Delta 8 gummies?

Many people enjoy indulging in a good gummy from time to time, but did you know that not all THC edibles are created equal?

When it comes to Delta 9 and Delta 8 gummies, there are some key differences to keep in mind.

The biggest difference is that Delta 9 is typically derived from cannabis plants, while Delta 8 is usually synthesized from hemp.
Will Hemp Derived Delta 9 Gummies Make Me Fail A Drug Test?

Yes!

In recent years, the popularity of hemp-derived Delta 9 gummies has been on the rise.

However, for those who are subjected to regular drug testing, there is a lingering question that remains: will they make you fail a drug test?


Although hemp derived Delta 9 edibles contain less than 0.3% THC, this small amount can still cause a false negative on a drug test.
How To Consume Delta 9 Gummies?

Consuming Delta 9 Gummies is a fun and easy way to experience the benefits of hemp extract.

These gummies are made with all-natural ingredients and contain less than 0.3% THC, making them federally legal to use.

Popping a juicy, flavorful gummy into your mouth is an enjoyable experience, but for those new to Delta 9, it's important to take it slow. We recommend starting with half a gummy and waiting 2 hours to assess how it makes you feel.

With these gummies, you can enjoy the benefits of Delta 9 while still feeling confident and in control. So, next time you're looking to unwind and relax, try one of our delicious Delta 9 gummies and taste the difference!
How Long Does Delta-9 Stay In Your System?

The amount of time Delta 9 stays in your system is often dependent on factors such as the form of consumption, metabolism, and existing THC tolerance.

People who consume Delta 9 occasionally may find that the effects last longer and are more pronounced since their system is less accustomed to it. Generally, you can expect Delta 9 to remain in your system for anywhere from three to 90 days.
Why Choose Alive Market Delta 9 Gummies?

For those looking for a way to unwind after a long day, Alive Market's Delta 9 gummies are the perfect solution.

These gummies are created with high-quality, all-natural ingredients and are made using a "farm to bottle" approach.

This means that every step of the process, from legal hemp farms to packaging the final product, is carefully monitored to ensure quality and purity.

Not only are these gummies effective at promoting relaxation and reducing stress, but they also taste great.

So, why choose Alive Market's Delta 9 gummies? Because they're the perfect way to unwind and enjoy the benefits of high-quality cannabis in a convenient, delicious form.
†The information provided is for informational purposes only and is not intended as a substitute for the advice provided by your physician or other healthcare professional. You should not use this information for diagnosing or treating a health problem or disease. Please consult your health care professional if you are pregnant or have any concerns and/or questions about the advisability of using any product(s) offered by Alive Market. This information has not been evaluated by the FDA, and is not intended to diagnose, treat, cure, or prevent any disease.