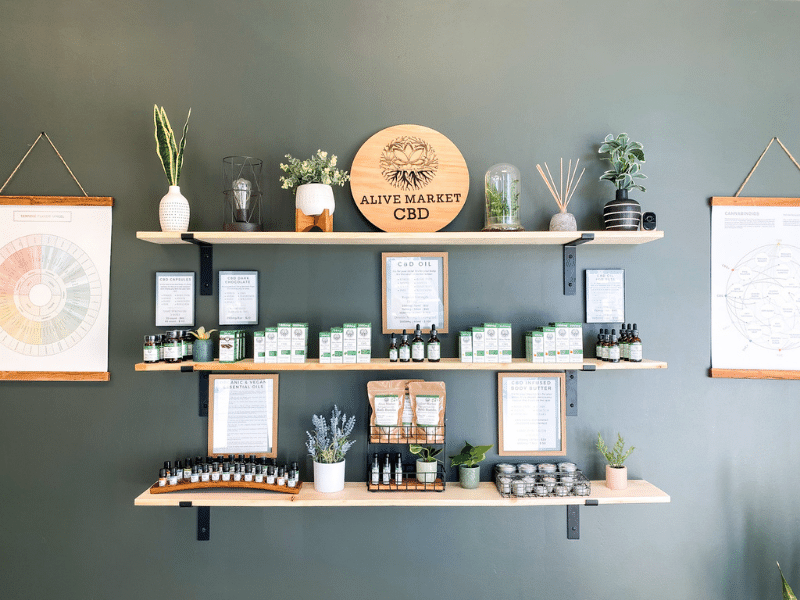 Wholesale CBD Program
Whether you're looking to wholesale CBD products online, add them to your spa or wellness center or sell them at your retail store, choosing Alive Market as your CBD supplier is convenient, profitable and most importantly trustworthy and consistent.
Get Started
Already have an account? Log In
How Does the Wholesale CBD Program Work?
1. Apply to be a wholesale partner.
2. An account manager will contact you to set up your shopping portal.
3. Activate your account by making a password and start shopping!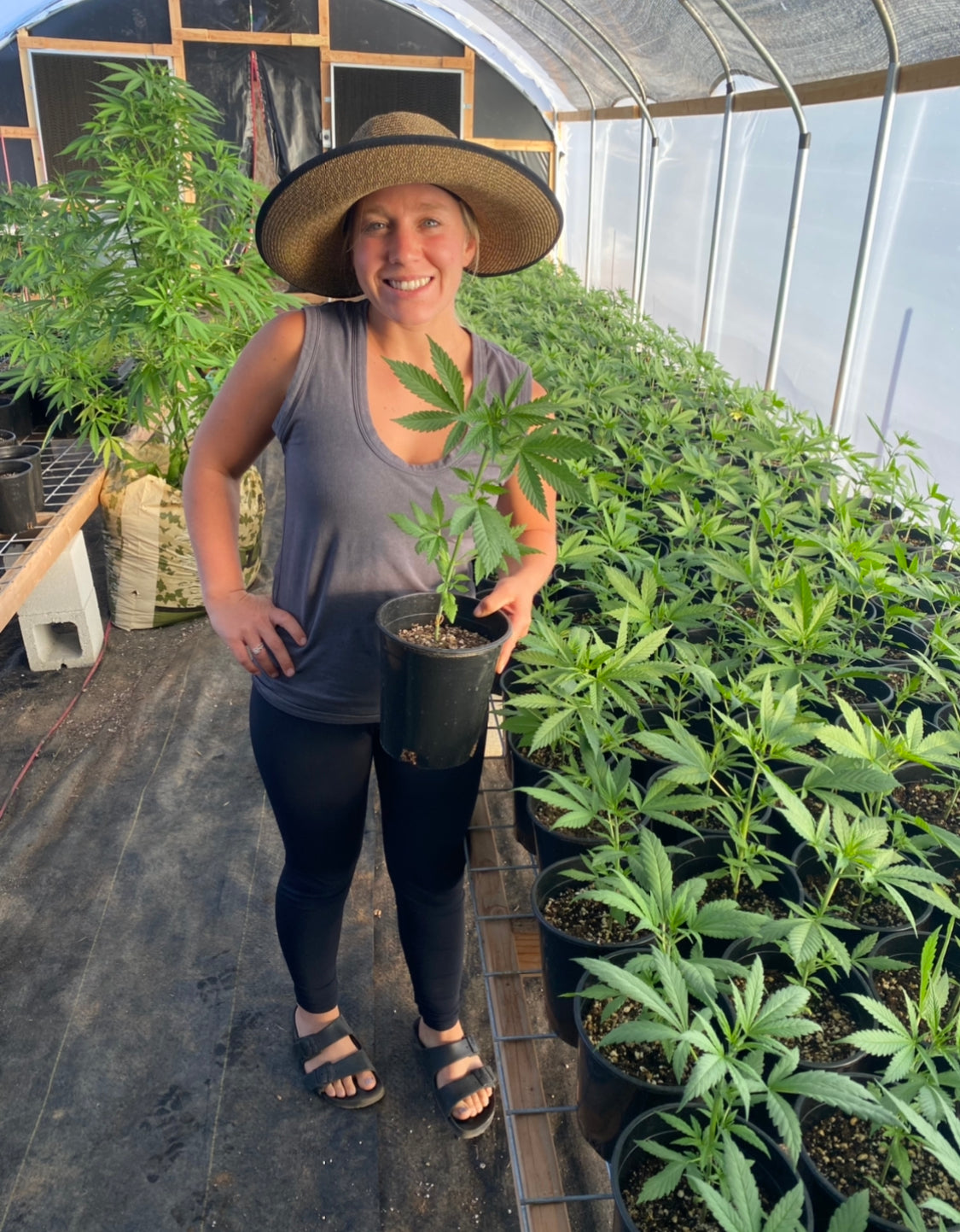 Farm-To-Bottle
At Alive Market CBD, we are proud to offer a farm-to-bottle experience for our customers. We believe that the best CBD products are grown in living soil and manufactured in-house.
We understand the importance of your reputation when it comes to providing your customers with high-quality products, so by joining our wholesale program, you will be able to sell our products confident in the knowledge that they meet our quality standards every time.
Apply Now
CBD Wholesale Program Benefits
SELL A BRAND YOU CAN TRUST
ALIVE MARKET PACKAGING
WHOLESALE PRICES
100% MARK-UP (50% OFF RETAIL PRICES)
FULL SPECTRUM CBD
SIMPLE AND ORGANIC FORMULAS
HIGH BIOAVAILABILITY AND EFFICACY
CONSISTENCY AND SAFETY
SAMPLES AVAILABLE
5 STAR-RATED

LAB TESTING AND QR CODES
NO MINIMUM NUMBER OF UNITS
FREE SHIPPING
EASY ORDERING PROCESS ONLINE
NEW PRODUCTS REGULARLY
ORDERS SHIP WITHIN 1-3 BUSINESS DAYS
FREE TO JOIN
Benefits Of Wholesaling CBD Products
As the demand for CBD products continues to soar, more and more entrepreneurs are turning to wholesale CBD as a profitable business model. With a focus on high-quality, full spectrum CBD oil, many retailers are finding success by offering a wide range of CBD products to their customers.
From high quality CBD edibles to CBD skincare products, the versatility of CBD has made it a popular choice among a diverse consumer base.
For those looking to break into the CBD industry, wholesale CBD products offers a unique opportunity to make a positive impact and build a successful business.
FAQs
What is CBD?

CBD, short for cannabidiol, is a compound derived from the hemp plant, typically from industrial hemp, that has gained widespread attention for its therapeutic properties.

Unlike THC, another natural cannabinoids found in the cannabis plant, CBD does not have psychoactive effects, meaning it does not produce a "high" sensation when consumed. Instead, it interacts with the body's endocannabinoid system, which regulates a variety of bodily functions like appetite, mood, and discomfort.

When extracted from the hemp plant and processed correctly, high quality CBD can be used in a variety of health and wellness products, from creams and oils to food and beverages, offering people a natural and safe alternative.
Hemp oil vs CBD OIL

As the demand for natural remedies grows, hemp oil and CBD oil have become popular choices among consumers. Derived from the same hemp plant, there are key differences between these two oils. While hemp oil comes from the seeds of the plant and contains little to no natural cannabinoids, CBD oil is extracted from the flowers and leaves, containing higher levels of CBD and other cannabinoids.


Because of this, CBD oil has gained traction in the CBD market for its potential health benefits and usage in managing certain conditions.

However, both hemp oil and CBD oil are used for a variety of purposes, from cooking to skincare. For businesses interested in offering these oils, wholesale CBD options provide an avenue to meet the increasing demand while also maintaining quality and affordability.
Is CBD Oil Legal to resell?

The current legal landscape surrounding the reselling of CBD (derived from the hemp plant) can be a bit confusing. While industrial hemp production and consumption has been federally legal in the United States since the 2018 Farm Bill, the legality of selling CBD products derived from hemp extract is still largely determined at the state level.

It's important for those looking for a CBD supplier to do their research and stay up to date on state-specific regulations to ensure compliance and avoid any legal issues.

As with any emerging industry, it's important to approach CBD reselling with caution and thoroughness to protect both oneself and customers.
How to become a wholesaler for bulk CBD oil products?

Becoming a wholesaler for bulk CBD oil products is a smart business move in today's ever-expanding market.

With both physical and online storefronts popping up, the demand for full spectrum CBD oil and other premium CBD products has skyrocketed.

But how does one become a wholesaler for bulk CBD oil products? Firstly, research different CBD oil manufacturers and suppliers to ensure fair pricing and quality products. It's also important to obtain any necessary licenses and permits to legally sell CBD oil products.

Additionally, creating a strong business plan and marketing strategy can better position your business for success in the booming CBD industry. With dedication and hard work, starting a wholesale business for bulk CBD oil products can be a lucrative opportunity.
What is CBD wholesale prices?

The cost of CBD products is a crucial factor for retailers and consumers alike, as it can impact their budgets and business strategies.

When it comes to wholesale pricing for high quality CBD products, full spectrum CBD oil tends to be the most expensive form due to its high quality and concentration. However, as the demand for CBD products continues to rise, prices are becoming more competitive, making it easier for businesses to access wholesale CBD products at cost-effective prices.

At Alive Market, wholesale CBD pricing is 50% of retail price. This allows retailers to have a 100% + marke up!
What type of retail stores should sell CBD products?

With the growing popularity in the CBD industry, many retail stores are now considering adding them to their inventory.

Full-spectrum CBD oil and other CBD products require a certain level of knowledge and expertise to sell effectively.

This is why it is recommended that stores that specialize in health and wellness, such as health food stores, massage therapists, chiropractors, doctors, and natural wellness centers, should be the ones to sell them.

These stores have a built-in customer base that is already interested in natural and alternative remedies, making them the perfect venue to promote and sell CBD products to those who can truly benefit from them.
What is third-party lab testing for CBD oil products?

Third-party lab testing for CBD oil products is a vital aspect of ensuring the quality and safety of these products.

By sending samples of their products to independent labs, CBD manufacturers can obtain an unbiased analysis of the concentration of cannabidiol and detect any traces of contaminants, such as heavy metals and pesticides.

This information is essential for customers to make informed decisions when purchasing CBD products, as it guarantees the potency and purity claimed on the label.

Without independent testing, customers may be at risk of consuming CBD products that could be potentially harmful to their health. Therefore, it is crucial for CBD manufacturers to prioritize third-party lab testing to provide their customers with premium and safe products.
Why Full Spectrum?

Many individuals have taken a keen interest in CBD products due to their therapeutic properties. As the demand for CBD products continues to rise, so does the market for wholesale CBD.

Unlike CBD isolate, full spectrum CBD offers users a full range of other beneficial compounds found in the hemp plant, including THC.

Additionally, those looking for pure CBD may find that full spectrum is actually a better option, as it allows for the entourage effect to occur, resulting in more comprehensive results.

Full spectrum CBD can be used to create a variety of products, from CBD edibles and CBD topicals and even CBD bath bombs.

By offering your customers wholesale CBD products, you provide them with the opportunity to experience the full range of benefits that CBD has to offer.
Why Wholesale CBD?

As the demand for CBD continues to rapidly grow in the health and wellness industry, many businesses are turning to wholesale CBD products as a reliable way to enter the CBD market.

By partnering with a reputable wholesale CBD supplier like Alive Market, wholesale distributors have access to a wide range of high-quality, lab-tested CBD products at affordable prices – making it easier to offer a competitive lineup of CBD products for their customers.

Additionally, wholesale CBD allows businesses to buy in bulk, saving both time and money that can be reinvested into other areas of their business.

Overall, wholesale CBD makes it easier for businesses to meet the demands of their customers and capitalize on the growing CBD market.
Wholesale CBD Starter Pack ($400 Retail Value)
Regular price

$200.00

Sale price

$180.00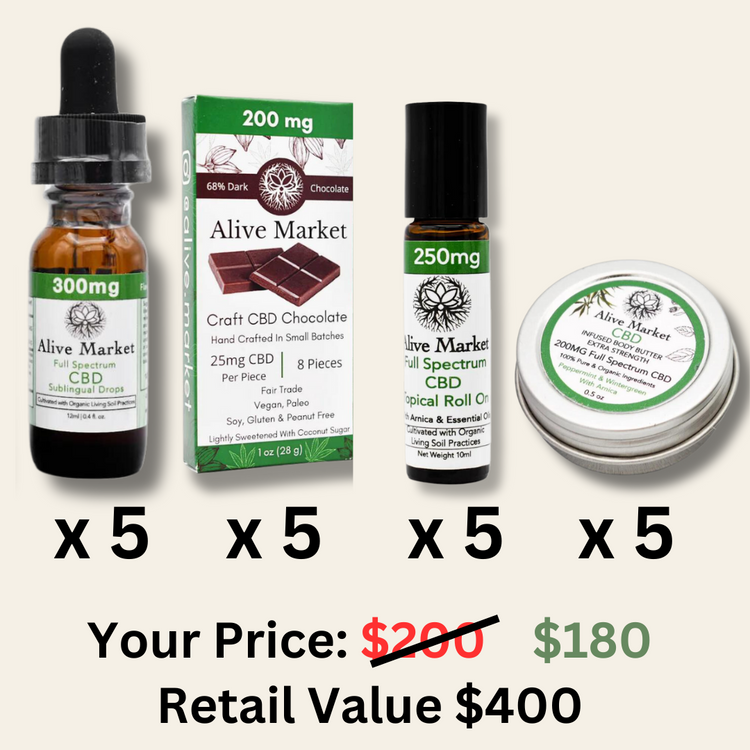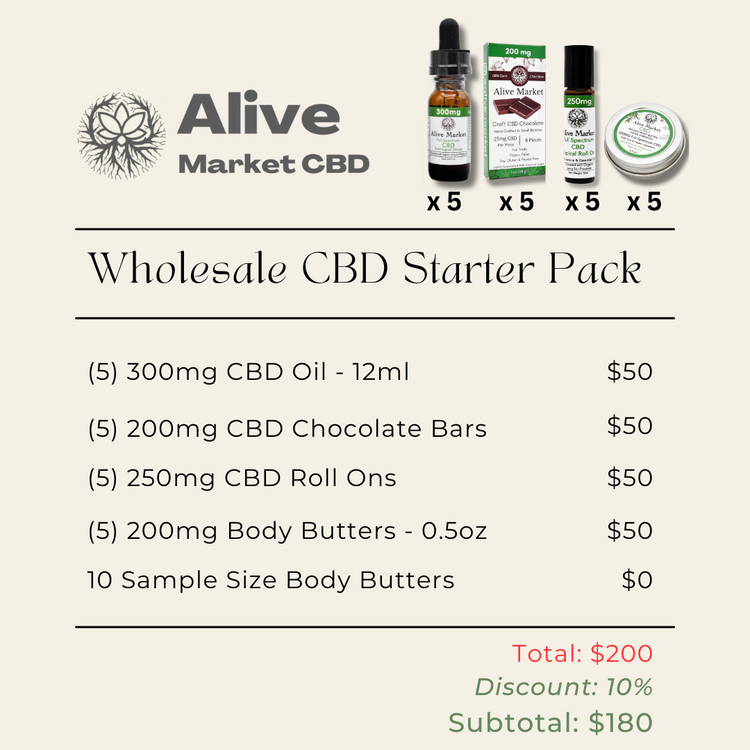 Check Out These Best Sellers