Full Spectrum CBD Capsules | 25mg/Capsule
CBD capsules offer a convenient way to incorporate daily CBD into your wellness routine. These capsules are an ideal choice for those who want a pre-measured dose of CBD without the need for a tincture or other delivery method.
Regular price

Sale price

$60.00
WARNING: All CBD products contain less than 0.3% THC which can possibly cause a false positive on a drug test.
Benefits Of CBD Capsules

The full spectrum CBD included in each capsule contains a range of beneficial cannabinoids, terpenes, and flavonoids that work together to provide the entourage effect.

Additionally, MCT oil is used as a carrier for the CBD, which helps to increase its bioavailability and absorption in the body.

With CBD capsules, you can take control of your wellness and support your body's natural balance one capsule at a time.
How to use

Take 1-2 capsules with a glass of water with or without food. The CBD is absorbed through your digestive system and then is slowly released into your blood stream. This process allows the CBD to last 10-12 hours in the system.
Ingredients

Organic MCT Coconut Oil / Full Spectrum CBD Distillate (contains less than 0.3% THC) / Vegatarian Capsule.
Testing

We take pride in the quality of our products and the care that we put into manufacturing them. Our products are made with only the highest-quality ingredients and are rigorously tested to ensure safety and efficacy. We believe that transparency is key, so we are open about our ingredients, manufacturing process, and third-party test results. We want you to be confident in the quality of our products and feel confident in using them.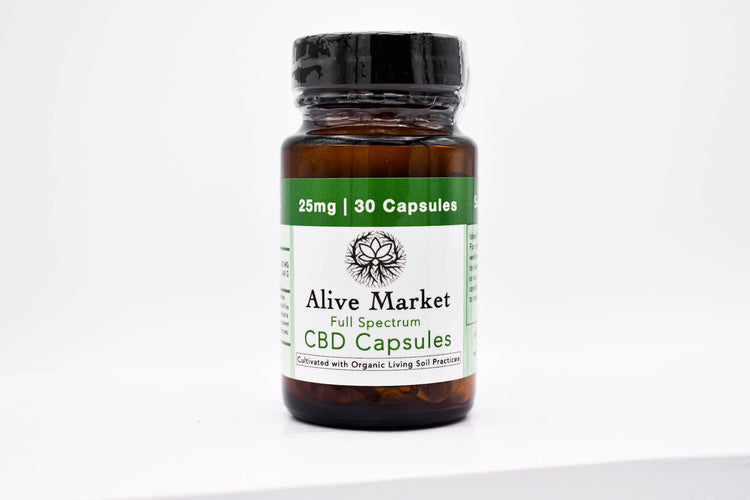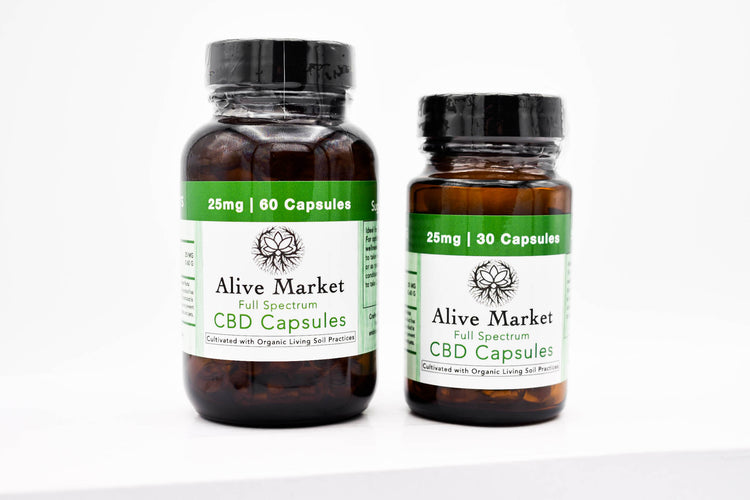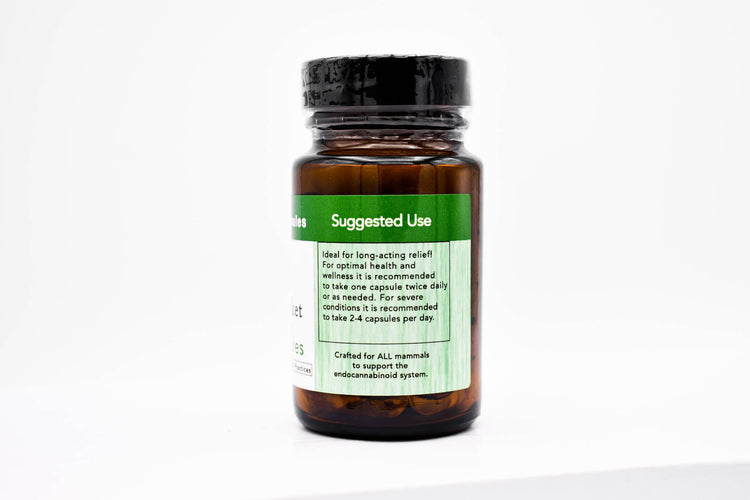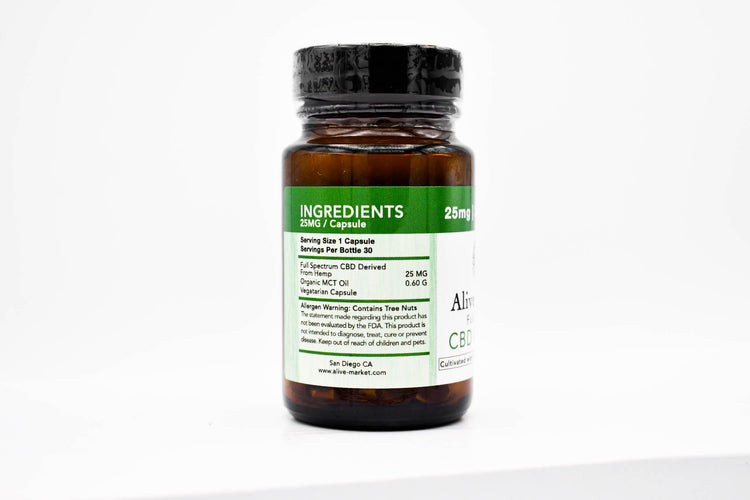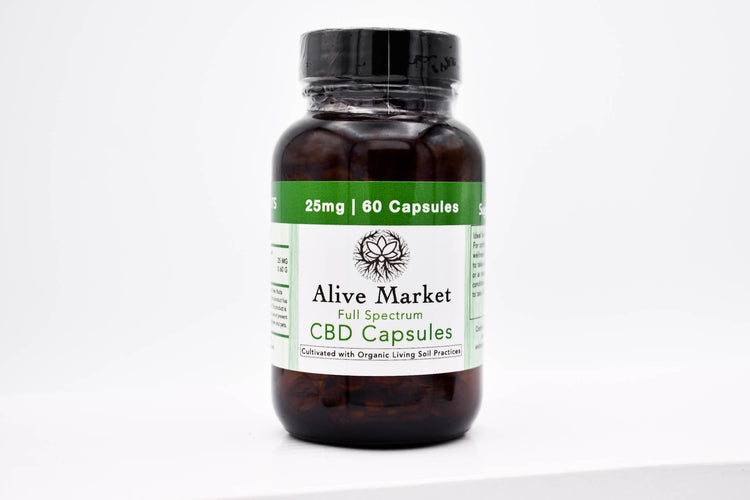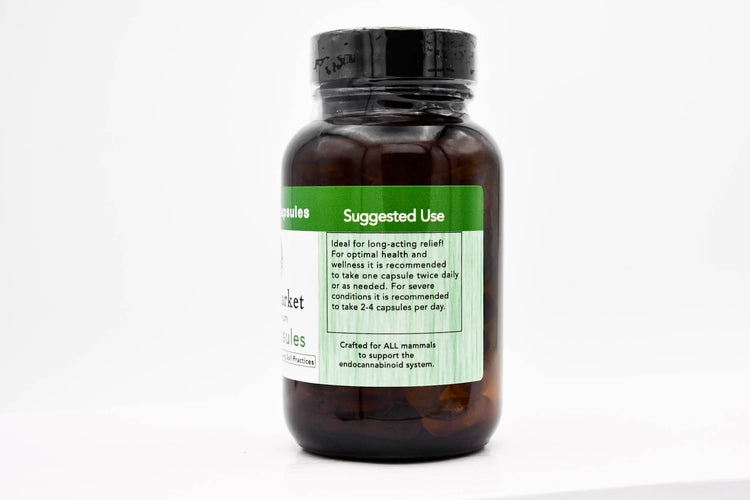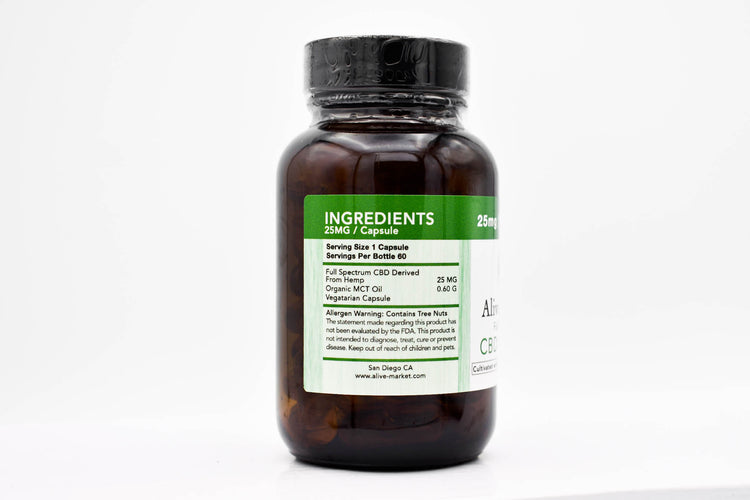 Vegan
Gluten-Free
Third Party Lab Tested
Made with MCT Oil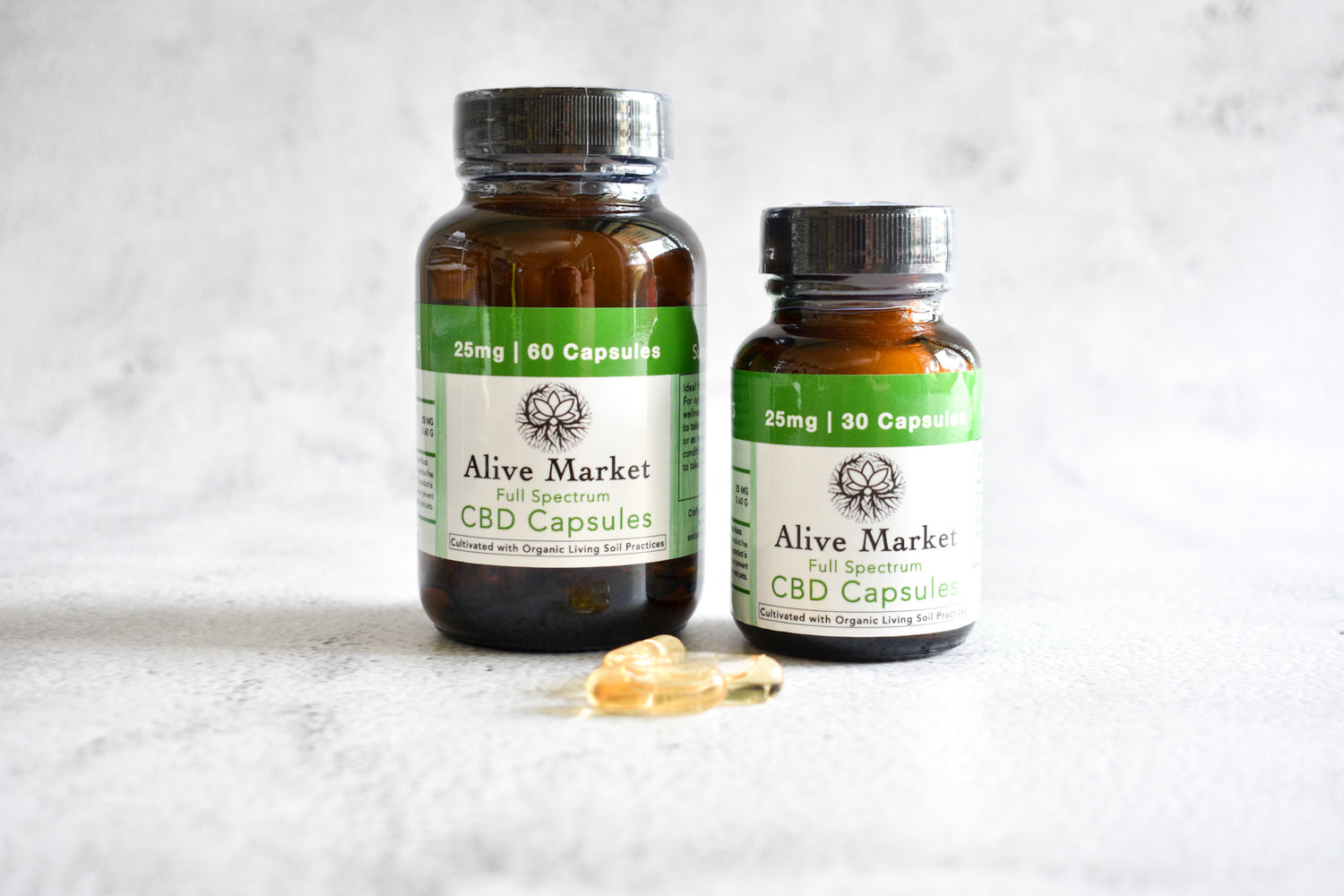 A slow release for a long lasting CBD experience
Live a more meaningful life with these easy-to-digest CBD capsules. They will help you feel more relaxed throughout your entire body.† The CBD is slowly released through the vegetarian capsule to provide a more powerful experience.
How much CBD is in each capsule?

When it comes to incorporating CBD into your daily routine, it's important to know exactly how much you're taking.

Our capsules contain 25mg of full spectrum CBD each, ensuring that you're getting a consistent daily dose every time.

Full spectrum CBD is known for its potential to provide a wide range of benefits, from reducing anxiety to improving sleep quality.

Whether you're new to CBD or a seasoned user, our capsules are a convenient way to incorporate daily CBD into your routine with ease.
How many CBD capsules come in a bottle?

We offer a 30 count or 60 count bottle.

CBD capsules, also known as CBD softgels, provide a convenient way to enjoy the benefits of daily CBD intake.

If you're considering adding this supplement into your routine, you may be wondering how many CBD capsules come in a bottle.

With 30 or 60 CBD capsules in a bottle, you can easily integrate daily CBD into your routine and experience the potential benefits it has to offer.
Is there THC in these CBD capsules?

When it comes to CBD capsules, many people are curious about whether or not they contain THC.

If you're taking full spectrum hemp extract soft gels, you can rest assured that the THC levels are less than 0.3%, which is the legal limit.

These capsules are perfect for those who want to experience the benefits of CBD without the psychoactive effects of THC.

By incorporating daily CBD soft gels into your daily routine, you'll be able to enjoy the potential benefits of CBD in a convenient and discreet way.
When should I take CBD Capsules?

Taking CBD Capsules can be a great addition to your daily routine, but it's important to know when the best time to take them is.

CBD Capsules typically contain full spectrum hemp extract in soft gel form, making them a convenient and efficient way to consume CBD.

While everyone's body reacts differently to CBD, it's generally recommended to take CBD Capsules in the morning or evening with a meal. This allows your body to absorb the CBD more effectively and can result in a longer lasting effect. Ultimately, the best time to take CBD Capsules is whatever time works best for you and your lifestyle.

It's always a good idea to start with a lower dosage and gradually increase it over time to find what works best for you.
How are CBD capsules different from CBD Oil?

CBD oil and CBD capsules may have similar ingredients, but they differ in the way they are consumed.

CBD tincture is a liquid that is typically taken sublingually, while CBD soft gels are swallowed like any other pill.

Although both contain full spectrum hemp extract, CBD capsules are measured out into specific dosages, making them easier to take on-the-go or for those who want a consistent dose.

On the other hand, CBD tinctures allows for more flexibility in dosage as it can be easily adjusted by simply adding more drops.

Ultimately, the choice between CBD oil and CBD capsules is a matter of personal preference and lifestyle.
What are CBD capsules used for?

CBD capsules are a popular form of consuming CBD oil extracted from full-spectrum hemp. Utilizing the benefits of the whole plant, CBD oil capsules offer a convenient and discreet way to take CBD, without having to worry about measuring or dosing.
CBD is known for its potential therapeutic benefits, including feeling more comfort, increasing a positive outlook on life, promoting calmness and relaxation, and improving sleep quality.
CBD capsules are an excellent choice for those who prefer a simple and precise way of taking CBD without needing additional equipment or specific serving sizes. Whether you're a seasoned CBD user or just getting started, CBD oil capsules may be the perfect solution for managing your wellness needs.
How long does it take to feel the benefits of CBD capsules?

Short answer: 30 min- 1.5 hours

For those new to using CBD products, understanding the timeframe for experiencing their benefits can often be unclear.

With the growing popularity of CBD soft gels, also referred to as CBD capsules or CBD pills, many are turning to this convenient method of intake for their daily CBD needs.

However, the length of time it takes to feel the benefits of these products can vary.

Factors such as dosage, frequency of use, individual body chemistry, and the presence of other compounds in the product can all impact the time for results. Some CBD companies like Alive Market incorporate fractionated coconut oil or MCT oil into their CBD soft gels to help facilitate faster absorption and effects, but it's important to remember that everyone reacts differently to CBD.

If you're looking to add CBD soft gels to your routine, it's recommended to start with a low dosage and gradually increase over time to find your ideal balance. As always, it's best to consult with a healthcare provider before beginning any new supplement regimen.
How many CBD capsules do you take a day?

If you're new to CBD soft gels, you might be unsure of the right dosage to take.

While there's no one-size-fits-all answer to this question, the general guideline is to start with 1 capsule and gradually increase the dosage as needed.

Each CBD capsule contains 25mg of CBD and fractionated coconut oil or MCT oil. This mixture plays a significant role in improving the absorption of CBD into your bloodstream.
†The information provided is for informational purposes only and is not intended as a substitute for the advice provided by your physician or other healthcare professional. You should not use this information for diagnosing or treating a health problem or disease. Please consult your health care professional if you are pregnant or have any concerns and/or questions about the advisability of using any product(s) offered by Alive Market. This information has not been evaluated by the FDA, and is not intended to diagnose, treat, cure, or prevent any disease.